Soaps Inspired by the Sea
Discover the nostalgic scents of the beach and sea. From the northern coasts to the shores of the Caribbean, our soaps and scrubs capture the undeniable bouquet of memories made at the shore. The sweet scents of tropical drinks. The fresh mist of a crashing wave. And the rich smell of coffee during a sandy morning stroll. That's what you'll find here—moments made by memories. Explore our collection and bring a little bit of the beach life home with you.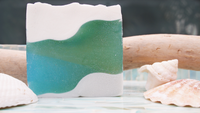 A Slice of Heaven
Our signature Caribbean Waves bar captures the gorgeous translucency of aqua blue waters and frothy waves. Its fresh clean smell is just what you'd expect from the seductive sea. 
CATCH A WAVE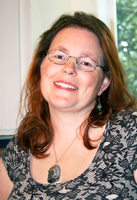 Soap Soothed her Soul
Laura Hatt, creator of Dolphin Wood Soaps, found solace and strength when she discovered soap making, and has infused her love of the ocean in one incredibly nostalgic collection. 
READ MORE
Testimonials
BEST BATH BOMB I'VE EVER USED!

I love the citrus scents and these products do wonders for my skin! I use these bath bombs every now and then when I need some relax time and my skin always feels so soft and hydrated after the bath. This is the perfect product because they all smell so good, they are fun colors and shapes, great for your skin, and never stain your tub! I will never buy a bath bomb from anywhere else!

Josie J.
GREAT PRODUCT!

Went on so smoothly, and really hydrated my lips! I didn't have to reapply as quickly as I do with other balms. The fragrance is fantastic too, very beachy. Definitely recommend!

Cierra
SO REFRESHING!

This is by far my one of my favorite hand crafted soaps. I love the way it makes my skin feel so smooth and refreshed after each wash and the sent is not overwhelming at all. Definitely recommend trying it out!

Katelin T.
AMAZING!!

I absolutely love the smell of this product! It works great! Very light fresh smell, not heavy or over powering at all but just enough to notice it! Would definitely recommend! Fast shipping too!

Heather S.